Health and Wellness Top of Mind for Shoppers, Says NPD – Gifts & Decorative Accessories
It's not all that shocking to note that over the course of the pandemic consumers focused more intensely on health and wellness. However, what is surprising is the fact that nearly two years after the pandemic hit the U.S., retail sales of products in health and wellness categories continue to match peak growth rates, according to the NPD Group.
"Comparisons to 2020 show that revenue growth of health and wellness categories slowed in 2021 but that's just part of the story," said Marshal Cohen, chief retail industry advisor for NPD. "Retail sales revenue from those same categories, compared to 2019, have continued to grow by double-digits. This growth seems to indicate that health and wellness is an enduring pandemic trend, which could provide opportunities for continued consumer spending."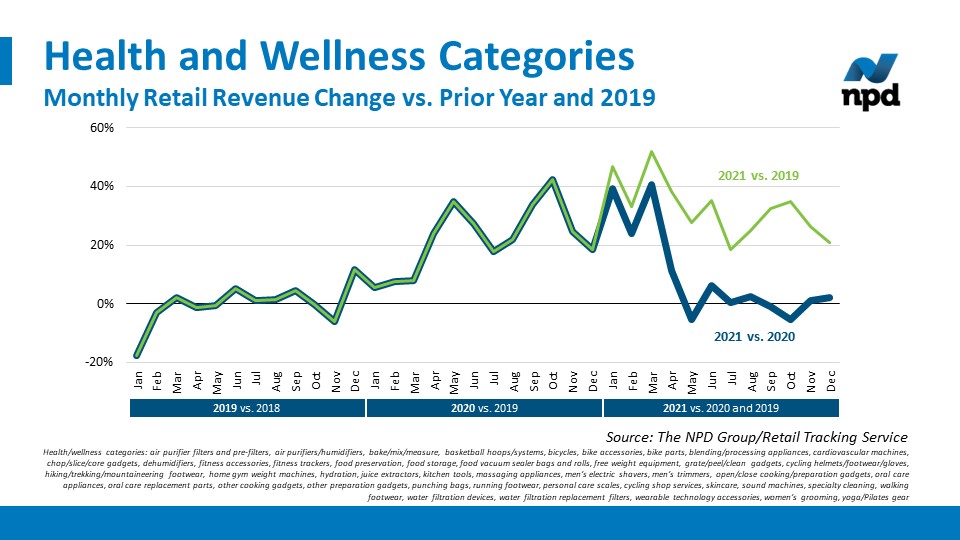 The general consumer focus on health encompasses the mind, body, and home, and is evident in the many industries exhibiting growth: from food and apparel to books and beauty. Leading the way are air purifier filters, massaging appliances, free-weight equipment and sound machines. Sales revenue in each of these categories more than doubled in 2021, versus 2019. Many categories related to cleaning, fitness, and food preparation, storage, and preservation continued to grow by double digits last year, as did books about home, gardening, crafts, hobbies, self-help and cooking.
"As consumers get out into the world and start to spend more on vacations and other experiences, health and wellness is likely to continue to play a role in their lives," Cohen said. "Now it's time for retailers and manufacturers to not only retain, but also generate new consumer attention, in a retail landscape where competition for the shopper's share of wallet will soon expand."
Lenise Willis, editor in chief, and Adelaide Elliott, associate editor, make up the editorial team at Gifts & Decorative Accessories. The team stays on top of the latest product trends, market debuts, consumer insights and business news in order to keep retailers up to date on what's happening in the gift industry. With the GDA team's reports, retailers are able to raise customer engagement, diversify their product mix and more
Industry Insights
Industry Insights
Business News
Industry Insights
Blog
Product Trends
Sponsored Links
Sign up to get exclusive industry information delivered directly to your inbox.
© 2022 BridgeTower Media. All rights reserved.
Use of this website is subject to its Terms of Use | Privacy Policy | Your California Privacy Rights/Privacy Policy | Do Not Sell My Info/Cookie Policy



Necessary cookies are absolutely essential for the website to function properly. This category only includes cookies that ensures basic functionalities and security features of the website. These cookies do not store any personal information.
Any cookies that may not be particularly necessary for the website to function and is used specifically to collect user personal data via analytics, ads, other embedded contents are termed as non-necessary cookies. It is mandatory to procure user consent prior to running these cookies on your website.