4 Wellness Trends You Might Want To Add To Your Self-Care Practice – xoNecole
If it's time for an upgrade or refresh in self-care, try a few of these.
Wellness seems to be the "it" buzzword of the day, but it's not something to take lightly. As Black women, it's important to be able to tap into what keeps us happy, mentally balanced, and all-around good. And while beauty and fashion are important aspects of life, there are a few trends we all should at least consider in order to not only stay on top of what keeps us ticking, but also upgrade out of the obligatory coach seat of that wellness journey.
Here are four trends that might be your perfect intro to a new way to approach wellness and meet the needs of that glow up you've been experiencing (or are set to achieve) this year:
When many of us hear the word "fitness" or "wellness," we often think of going to the gym, getting our usual physicals or pap smears, and making an appointment with a therapist. Today's trends take things a bit further, incorporating activities and methods that get beyond the usual preventative care and get more customized and personal, with vaginal and sexual wellness being a huge part of it. It's all about customized nutrition plans and workouts via apps like PlateJoy or Yummly or workouts tailored to your personal goals, unique interests, and a focus on self-love and care.
Hotels are also investing in offering sexual wellness retreats and spas that focus on issues like tapping into intimacy, utilizing fitness activities to combat postpartum challenges, and increasing arousal, a healthy part of both partnered and solo sex as well as relationships.
Suppositories and probiotic pills are nothing new, but Black- and women-owned companies are offering other innovations in products that enhance both inside and out, including The Honey Pot's Boric Acid And Herbs Suppositories used for balancing vaginal PH, Love Wellness's Probiotics Kits for intimate and gut health, or Kushae's Feminine Skin Balm made just for the skin in your nether regions).
Getty Images
More than 25 million households added a new pet to their families during the pandemic according to a recent study, and many saw the emotional and mental benefits of having them. You might have heard of emotional support animals and raised an eyebrow in disbelief, but research has shown that animals positively affect your mood, balance, happiness, and empathy functions, especially for many still dealing with stress and anxiety related to the pandemic. (And in most cases, emotional support animals are part of a therapy plan spearheaded and monitored by a mental health professional.)
For dog-lovers, walking, running, swimming, and even doing yoga with their pets, for example, have been popular fitness activities that provide a fun way to not only stay active but ensure your pet is healthy, too. Playing games as well as utilizing pet-friendly fitness equipment are also other trends that add animals to your routine. And if a dog or cat is not an option for you, there are several other options that might be more feasible, affordable, and manageable based on your lifestyle. Caring for them can be a great way to ease your mind, add a calming routine to your day, and incorporate practices that contribute to your overall well-being.
Cycle tracking and syncing have been found, in some cases, to have major wellness benefits and it's a trend that's gaining traction. It involves getting in tune with your body, finding out the best nutrition options for you, and keeping track of your menstrual ebbs and flows (literally) so that you can be better able (along with the help of a medical professional of your choice) to figure out any issues that might arise related to your period and reproductive health. This is well beyond just logging your cycles and tolerating them. Trends point further into empowering yourself, being more strategic, and figuring out the best plan of action to be your best self during your period.
Apps like Aavia (launched by a company that offers a Smart Pill Case, a smart device that helps you keep track of your birth control routine) have options for hormonal health solutions supported by femtech developments, and platforms like Hued provide a seamless and easy way to find Black and "culturally competent" specialists and doctors via a directory.
Getty Images
From communities of Black doulas and maternity consultants to virtual and in-person mommy retreats and mommy spas, more and more spaces are thriving and expanding to give Black mothers and mothers-to-be the space to use their voice and advocate for one another and share healthcare and wellness resources. Apps like Meet Akina also provide connection and networking opportunities for moms. While there's still more work to be done to address maternal health and the disparities Black women face in the areas of premature births, stillbirths, and horrific hospital experiences, this is one trend that's growing more.
Vaginal personal care products like Ebi's plant-based oils and herbal bath mixes are being touted as great additions to one's day, weekend, or nighttime bathing routines especially those related to postpartum wellness, and vulva care is also on the agenda, with companies like Private Packs offering discreet hot and cold remedy methods for relaxation, pain or inflammation.
Let's make things inbox official! Sign up for the xoNecole newsletter for daily love, wellness, career, and exclusive content delivered straight to your inbox.
Featured image by Getty Images
Like xoNecole on Facebook    
Janell Hazelwood is a journalist, speaker, editor, and consultant who has worked for companies including The New York Times, Black Enterprise, and Conde Nast. She's fluent in women's issues, black entrepreneurship, guilty (reality TV) pleasures, and Trini patois.
Sweet Life: Los Angeles on HBO Max is an honest and unique look into what it means to be young, Black, and constantly pursuing one's dreams in the heart of South Los Angeles. Exploring themes of loyalty, legacy and love, the coming-of-age series follows a group of longtime friends navigating the relatable, chaotic mid-20s. Since season one, there's been a breakout star who's not been afraid to keep it real, "the nucleus" of the core cast friend group, and all-around IT GIRL, Tylynn Burns.
As season two comes to a close, xoNecole caught up with Tylynn who's been gracing our screens with stylish looks while growing, learning — holding herself accountable — and chasing her dreams in front of a national audience. But sharing glimpses of her world via reality TV isn't always a walk in the park, and with season two, Tylynn is navigating the praise and scrutiny with grace.
Tylynn is aware of how she's portrayed on camera — "very serious, super tunnel vision with her business, always dipping her toes in her friends' lives" — but after Candiss, her IRL friend and fellow castmate, she swears she's the "most lit." An avid music listener and fan of trap and house music and reggaeton, she often spins some: Young Nudy, Steve Lacy, Bad Bunny, Blxst, Bino Rideaux, Megan Thee Stallion, and Beyoncé. Renaissance has been getting much of her attention lately, especially her favorite track, "Alien Superstar." Tylynn solidified that only this week, "I saw an astrology chart that says Pisces is an alien superstar. I feel like there's no one like me, and I'm a superstar, and I'm that girl. And it just speaks to me. It speaks to my soul for real."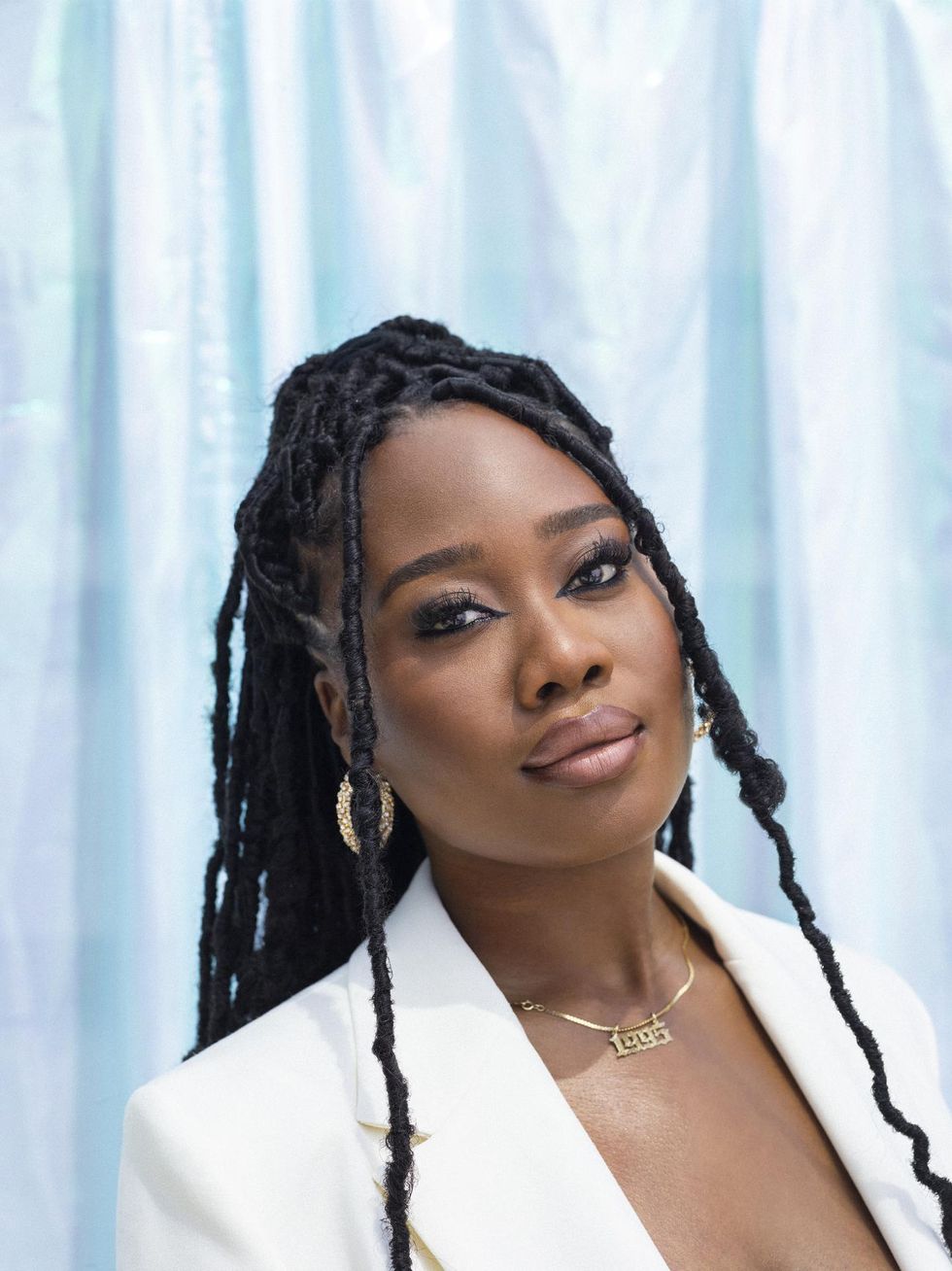 Alexis Hunley/HBO Max
She also can serve a look from head to toe. Whether a curly natural, a bright orange knit set, or lilac purple cowboy boots, Tylynn makes a statement every time she walks into a room. Pulling from Y2K trends and "just putting shit together," the 27-year-old defines her style as "street with a little class." Her Mexico trip look takes the top spot when asked what her favorite hairstyle was from season two — light brown, wavy locs. "I looked very beautiful in every scene I had that in, so that would be my favorite hairstyle. And then second would be Daphne (a red-orange, long, straight wig with a blunt bang) from [episode four, the New York episode], for sure," says Tylynn.
For Burns being that girl or an, it girl is more than superficial, "Being an it girl is realizing your power but allowing other people to have that power [too]. So a piece of your power. To me, that's an, it girl."
Tylynn keeps it real beyond the series, her genuine nature, warmth, fun, and inviting energy radiate during our conversation over Zoom. She's an open book, sitting in front of a Kobe Bryant portrait with fresh box braids, hoop earrings, hot pink nails, and her best accessory, a smile that's giving girl next door that's easy to talk to. Her portrayal in Sweet Life: Los Angeles also gets her business-minded side right. She's constantly on the go, in meetings, and getting endless Slack alerts — even during our interview (something we laughed about).
Burns is the founder of a boutique event-planning agency, House Party Creative, utilizing her degree in advertising and public relations from the University of Oregon to offer curated events to people that are typically reserved for influencers or celebrities. "I wanted to design moments that give people more," Tylynn tells xoNecole. She does that by integrating live performances and being intentional about working with local Black vendors.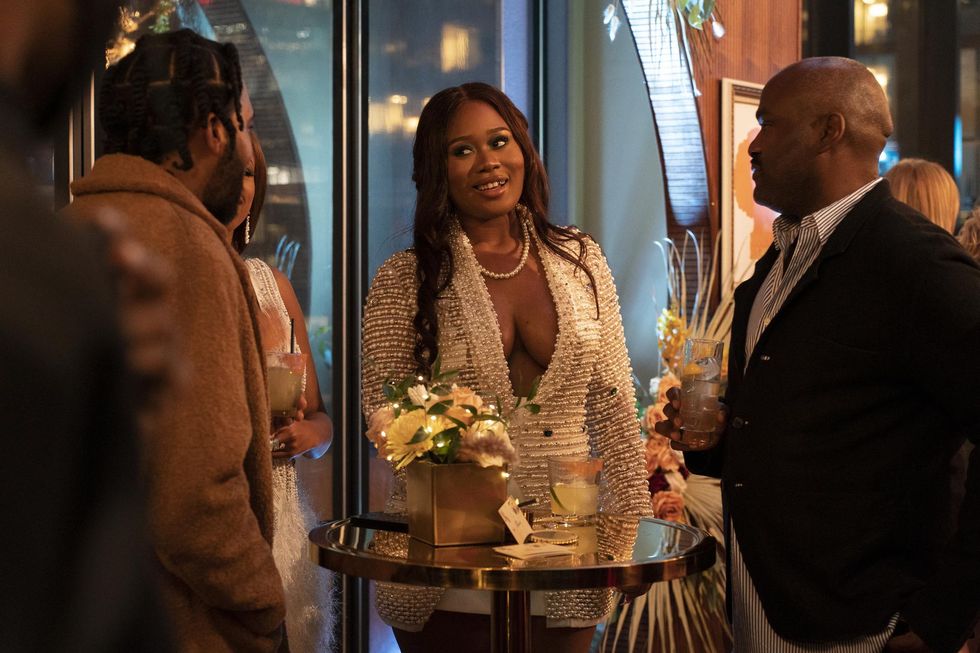 Tylynn Burns in 'Sweet Life: Los Angeles' Season 2 – Episode 5Courtesy of HBO Max
A staple event for House Party Creative is featured on both seasons of Sweet Life: Legacy Table. It's an event that brings various young movers and shakers together to network and have a good time amongst like-minded people. This season we saw Legacy Table go bi-coastal as Burns hosted her first New York installment. The event was a success that led to a lot of exposure for the agency and made a good impression on Biggie Smalls' son, CJ Wallace, in episode five.
"We broke barriers by being bicoastal. When I go on [IG] live, many people say, 'Come to DC, come to New York, come to Philly.' The Midwest and the East Coast are tapped in now. Having that visibility outside L.A. means so much for House Party's future," says Burns.
But Tylynn admits it's not easy being in the creative space and now on TV as a dark-skinned Black woman. She's aware of how covert colorism and misogynoir show up on screen and in her everyday life. "There's no room for error, especially for a dark-skinned Black woman. Compared to some of my other cast members, even when it comes to the men on the show, I am held to a very high expectation, which is a lot of pressure," she says.
Despite the world constantly trying to take agency and dehumanize Black women, Tylynn leads with humanity, sharing vulnerable, real moments with the audience. In episode six, she disclosed her abortion during a couple's therapy session with her boyfriend, Jaylenn. Although the season was filmed a while ago, abortion has been a huge and very polarizing topic since the Supreme Court recently overturnedRoe v. Wade. "It was easy for me to talk about," says Tylynn. "I wanted to show women that you're not alone. One in five women, I believe, have abortions. And once I shared mine, friends and family told me about theirs. I just wanted to open that dialogue in that safe space."
During that therapy session and throughout season two, the audience saw the not-so-Instagram-able moments of her relationship with Jaylenn. "I'm not the perfect girlfriend, and he's not the perfect boyfriend, but we're getting there. We have this mutual respect and love that was good for Instagram and TV, but obviously, we're missing it," Tylynn says of her relationship being in the public eye.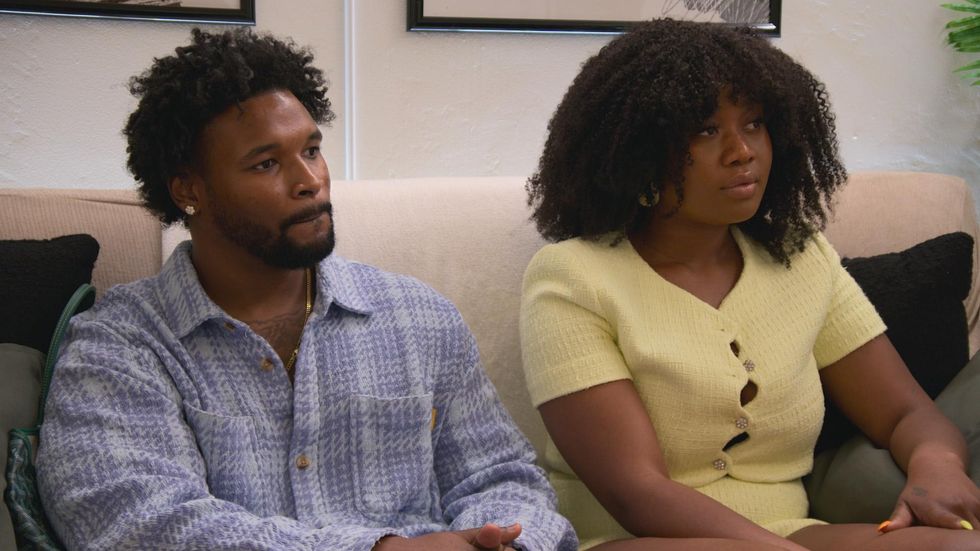 Jaylenn Hart and Tylynn Burns in 'Sweet Life: Los Angeles' Season 2 – Episode 7Courtesy of HBO Max
"I wanted to shed light that even though Jaylenn and I are like this, we're not perfect and have history," says Tylynn. Fully aware of what they signed up for by being on TV, she reassures us that the two are "solid." She hopes, beyond just watching and judging, that the audience can relate to these honest moments and reflect on times they went through similar experiences. "It's hard to be under pressure to say and do the right things with a partner because you have your views, and they have theirs. And so, I hope that people respect where we are right now and where we're going," she says.
This season, Tylynn went on an apology tour as she worked on herself through therapy and her platonic and romantic relationships. "I have learned that I'm not as self-aware as I thought. Therapy showed me that I have to know myself in relationships and friendships to be better or more self-aware," says Tylynn. Partly because of being a Pisces, Tylynn tends to read the room and decide what part of herself she is willing to share. "I realize by doing that, that when it's time to be fully me and stand in my emotions and thoughts, I don't know how to act. As you see [on the show], I either have blow-ups or try to get my point across, but it doesn't translate because I was trying too hard to fit other people's narratives without trusting my own," she tells xoNecole.
For Burns, the hardest thing to re-watch on the show this season was the disagreement with Rob because her best friend Amanda was put in the middle. She's aware of how that situation not only impacted her and Rob but those they care about. "Having to re-watch that and having the relationship I do with [Rob] and Amanda's parents, just in the back of my head being like, 'dang, I kind of failed so many people.' Based on an unhinged reaction to something that could've been talked through. I feel like that is just your worst moments being blown up on-screen for everyone to dive into without having the full context," she says.
Another long-awaited apology came at the tail end of the season as Tylynn made up with Jerrold during the Mexico trip. Both serve as the glue for the respective smaller friend groups that make up the core cast, and since their fall-out, in season one, it "fucked up the synergy with everyone." After filming the scene, Tylynn tells xoNecole that the two shared a hug and a sense of relief at being back on better terms. However, Tylynn isn't sure if they'll ever be the same as they once were.
"What I said on TV [about Jerrold being a 'sociopath'] and how I felt he handled the situation [leaving Jaylenn to fend for himself against castmate Jordan Bentley on Jerrold's podcast in season 1] will live forever, and it'll be a constant reminder even in our lowest points. But we have a ton of history and so much love and care for each other that should be the driving force with our friendship moving forward," Tylynn tells xoNecole.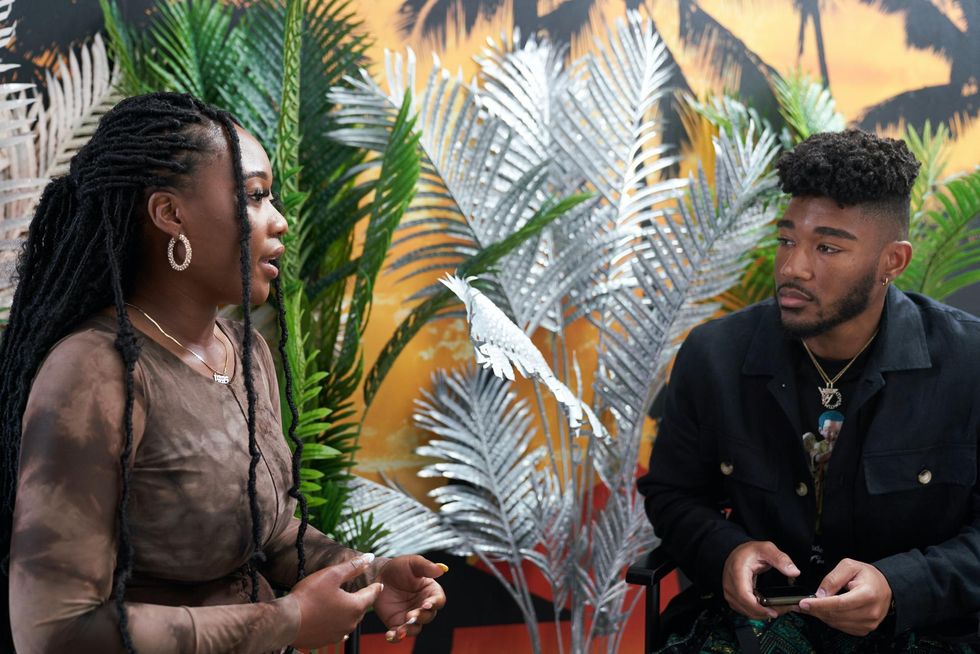 Tylynn Burns and Jerrold Smith II in 'Sweet Life: Los Angeles' Season 1 – Episode 9Courtesy of HBO Max
Though Jordan doesn't appear in season two, there's no hard feelings or drama around that decision. "He let all of us know [that he wasn't coming back for season two] and we were all incredibly supportive of that," Tylynn tells xoNecole. "Like, he has so much going on with [his business] Hypland and even his own personal endeavors and stuff. And so like sometimes the timetable for a show and that doesn't mix. And so we're super supportive of him choosing what he did." In his absence, supporting cast members Keilan (Jaylenn's cousin) and his long-term girlfriend Candiss got to step up with more screen time this season.
As for what's next for Tylynn, she is excited for House Party Creative's future and taking some of their events nationally. She and Jaylenn are starting a new chapter, too, "We're looking for a house," she says, excited about their upcoming home tour. "And we are starting a family with our bulldogs," she emphasizes, then adds, "kids in a few years. We're good." And for any fans she may have let down this season, Tylynn has a message to them:
"Trust the process, continue to put your faith in me and what's in store for me because I'm a work in progress. I still appreciate how loyal people are. That tells me that there's still a lot of me in these moments that I'm probably not capturing. And so I don't know—stay tuned for my process."
Let's make things inbox official! Sign up for the xoNecole newsletter for daily love, wellness, career, and exclusive content delivered straight to your inbox.
Before J. Alphonse Nicholson was Lil Murda on the Starz drama P-Valley, he was going back and forth between North Carolina and New York to pursue his dream of acting. The actor comes from a creative background. His mother used to write screenplays for their church while he had a passion for music and wanted to be a music teacher and play in a band as a drummer. It wasn't until he began attending North Carolina Central University that he decided to take a stab at acting and like they say, the rest is history.
But it wasn't easy. He dropped out of college to pursue acting and as a young parent, he was constantly away from his son and family. Speaking to xoNecole's Dana Blair for our xoMan series, J. Alphonse opened up about balancing co-parenting at a young age, hustling, and trying to make acting happen while also keeping his mental together.
"It was hard," he started. "There was a lot of times I wanted to go back home and get my job back at FedEx. And do whatever other side hustle I had going on. And I missed my son a lot too. That was the hardest part for me, was being away from my son."
J. Alphonse and Nafeesha have a blended family sharing a son and daughter. "It was hard. It was hard. And it was one of those things where I had plenty of moments where I wanted to give up, but I think the same things I wanted to go back to – the same thing that I wanted to be there for every day like my son and not having to worry about you know certain things as an artist – it was also the same things that motivate me."
"My son, I wanted him to have a better life than I had. I didn't have a horrible life, you know but it was tough. My mom was a single mom. (J. Alphonse's father passed away when he was 12-years-old). She had to work multiple jobs to make sure she provided for us. That was a constant reminder that I don't want my son to have to relive some of the hardships I had to [live] and I want to build a life for myself. So that was my constant motivation. And then just, I knew at some point that I was going to be able to make a mark with storytelling, whether it was big or small. So, this opportunity with Lil Murda (his character in P-Valley) came years down the line. And I'm glad that I didn't give up."
Lil Murda may be his breakout role but J. Alphonse has acted in other projects such as Just Mercy and he has also performed on Broadway. For those who may be unfamiliar with the Starz series, P-Valley is about a struggling strip club called The Pynk in Chucalissa, Mississippi and J. Alphonse plays an up-and-coming rapper named Lil Murda who keeps his sexual identity hidden in order to make it in the hip hop industry.
See on Instagram
"I had a lot of great opportunities prior to that too. I know a lot of people know me for Lil Murda but the Just Mercy's of the world, the Self Made's, and all of the theater stages I've been able to step on. Broadway. All those things are milestones that you end up stacking up and it's like, 'Oh okay, I'm getting somewhere. Like my foundation is building,'" he said.
"So you have to physically see those things. So a lot of times, yeah, I had to brush myself off, cry, you know, call my girlfriend, my then-fiancee, now-wife you know, to really chop these things up and figure out exactly how you want to move throughout life… It was tough but I think I had the right people in my corner."
Some of those people in his corner include his best friends and of course his wife. The North Carolina native gushed over his wife and shared how she has been his rock while he was struggling to make it in entertainment.
"Shout out to some of my best friends Denzel and Khalil who are like my brothers, I've known them since I was 15, and then ultimately shout out to my wife," he said. "When I met her, I was still going through it. You know, still trying to make things happen. But I feel like her support and love around me and her vision for who we were as a couple motivated me 100 times more to go out and get it."
J. Alphonse's relationship with his wife Nafeesha is a true example of a partnership. The musician explained how they have conversations about the vision they see for their family and their lives. He credited his wife for having patience with him and his career while also making her own dreams come true.
See on Instagram
"We always discussed it. It's kinda like one of those things like, I'm a big dreamer, you know? And my wife, she's a big dreamer as well, but she's a big doer. Shout out to my wife. She doesn't have to really talk about the things that she wants to accomplish or the things she's accomplished already. She's accomplished a lot of things that people may not know of but she has an understanding of who she is and what she's been able to do," he explained.
"And I'm the one who kinda like, 'I need this crib down there with the jacuzzi,' and she's like, 'You're gonna get it. Take your time. Pace yourself.' It works perfect. It's a perfect balance. For us, we always have these conversations about what we want our life to be. And then you have a show like P-Valley comes around which is kind of like, 'Oh okay, this is a different thing that has happened that's come into our life we weren't expecting, how do you deal with fame, celebrity, and then how do you deal with such a complex character and the things people have to say about me and the things they place on me personally and place on my wife?'"
He continued, "So, we have conversations about those things and keep each other lifted and we talk about the future too. 'You got this movie coming up, you got this TV show coming up,' we can't wait for that. We can't wait to get our kids into school and you know get them off to college in the next couple of years. All the real-life stuff outside of acting and entrepreneurship that we build on and I would just say that it's been probably one of the biggest joys of my life having someone to build with on a constant, on a daily basis."
Let's make things inbox official! Sign up for the xoNecole newsletter for daily love, wellness, career, and exclusive content delivered straight to your inbox.
Featured image by Michael Kovac/Getty Images for STARZ
Executive producer Will Packer's new film Beast stars Idris Elba as a widowed dad caring for his two daughters (Iyana Halley and Leah Sava Jeffries) after his wife dies. While he's trying to build a stronger bond with his daughters, the doctor encounters a ruthless lion in a South African game reserve and his daughters' safety becomes his number one priority.
While Idris' character is fighting to protect his daughters at all costs even if that means putting them before himself, that same thinking also translates into his personal life. Putting Black women first is a theme shared with xoNecole's new She Comes First podcast where we hear from our faves on Black women centering themselves, self-care, and self-love in their lives. In an exclusive interview with xoNecole, Idris and Will also share the importance of putting Black women first.
"My wife, she's a priority just based on we're married, and we're a partnership," Idris said. "She's always someone I think about first."
He also mentioned his daughter. The Luther actor has two kids, a 20-year-old daughter named Isan Elba and an 8-year-old son named Winston Elba. "In this film, my character is prioritizing those two girls over himself and I worked really hard for a long time but I always think about my daughter, my kids, and my wife."
Will echoed those same sentiments as he is married as well and has two daughters. "First of all, I love Black women and I try to show that love in my personal life. Married to a Black woman, two Black daughters, that is very important, son of a Black mom," Will said. "I just realized that Black women don't get enough appreciation for what they bring to this world to how talented and influential they are so I try to do my part and thank the women that I personally know and show them love but then also in my work."
"If you look at projects that I've been a part of, there is either Black women right at the center or integral parts to the content that I make."
Will has produced several films starring Black women such as Girls Trip, Little, Breaking In, and many more. "And that audience has shown their appreciation to me by going out and supporting my projects in a really major way and that is not lost on me. So I continue to always showcase my sisters in any chance that I get and they always show me love and I'm appreciative."
Beast hits theaters on August 19.
Let's make things inbox official! Sign up for the xoNecole newsletter for daily love, wellness, career, and exclusive content delivered straight to your inbox.
Featured image by Michael Loccisano/Getty Images
"Bad bitches have bad days too." When I heard thee Hot Girl Coach Megan Thee Stallion spit this indisputable fact on "Anxiety," the eleventh track of her new album Traumazine, I had to pause for a moment.
My initial shock came from hearing Meg's willingness to be so vulnerable about her mental health, especially while continuing to deal with a world that only wants stoicism from Black women in the face of unrelenting abuse.
With her sophomore follow-up to her 2020 debut Good News, the Grammy-winning rapper has returned barred up with her signature braggadocious punchlines and her IG caption-ready lyrics that could also double as manifestation spells.
But her meteoric rise to stardom has been punctuated with as much trauma as it has success. From being shot in her feet in 2020 allegedly by R&B singer Tory Lanez and her ongoing legal battle against him to hitting #1 on the charts with Beyoncé for the remix of "Savage" which garnered the Houstonians a Grammy win to the contractual dispute she's had with her old record label (that with the release of this project has finally freed her from her commitment to the company), to her first #1 album on iTunes with Traumazine — the highest of highs has been met with the lowest of lows.
She lets out all her frustrations on Traumazine and particularly on "Anxiety" – the album's most revealing and unguarded track.
"People call me rude 'cause I ain't lettin' 'em try me," she raps, echoing a sentiment that many Black women feel when trying to enforce our boundaries or trying to stand up for ourselves. She expresses a similar feeling in the track "Not Nice" when she says "I guess my skin not light enough, my dialect not white enough/Or maybe I'm just not shaped the way that make these niggas givе a fuck." It's her Rolling Stone interview come to life.
Another revealing moment in "Anxiety" is when she says "They keep sayin' speak your truth/And at the same time say they don't believe, man" – a line that's seemingly pointed toward people who have tried to discredit that she was even shot when her publicly available medical records prove that bullet fragments were removed from both of her feet.
It's not the first time since the incident that the rapper has had to combat people who have attempted to undermine what happened to her. She talks about it extensively in her recent interview with Gayle King, telling the veteran journalist about the details of the night in question. "I'm a victim," she told King. "I am the victim. I'm not defending myself against anything. Something happened to me!"
Over half way through "Anxiety," she shouts out three iconic women. "Marilyn Monroe, my favorite ho/My favorite bad bitch, I think she the GOAT/Jammin' to Britney, singin' to Whitney/I just wan' talk to somebody that get me, yeah." Along with being three of the most famous women in history, these women also have had publicly documented downfalls stemming from many things including being over-scrutinized by the media and the world writ large – something that Megan can definitely relate to.
In the most gut-wrenching part of the song, the rapper speaks about her mom, Holly Thomas, who passed away in March of 2019 just as Megan was beginning to gain significant momentum in her career.
If I could write a letter to Heaven/
I would tell my mama that I shoulda been listenin'/
And I would tell her sorry that I really been wildin'/
And ask her to forgive me, 'cause I really been tryin'/
And I would ask please, show me who been real/
And get 'em from around me if they all been fake/
It's crazy how I say the same prayers to the Lord/
And always get surprised about who he take, man/
After a public falling out with her best friend in the aftermath of the shooting and the loss of so many of her loved ones, on top of the trauma of being shot and the unwarranted backlash she's received as a victim coming forward, it's clear that Meg is struggling.
With "Anxiety," thee head hot girl has made space for Black women to know that bad days do not diminish our abilities to still be bad bitches too.
Let's make things inbox official! Sign up for the xoNecole newsletter for daily love, wellness, career, and exclusive content delivered straight to your inbox.
Feature image: Noam Galai/Getty Images for ABA

After my surgery in 2018, I was hoping never to have to write another personal story about fibroids again. But here we are. For the last five months, I've been having a period every two weeks, and for some reason, I thought it would just go away. Fast forward, I have a new doctor—a Black woman—and underwent a series of tests that told me what I already knew: I have a new fibroid smack dab in my uterus.
Thinking back on the years since I had my laparoscopic myomectomy, the changes I swore to make to my diet just didn't happen. Not saying that's the total cause of this new fibroid, but one sure thing is our diets have a lot to do with our overall health. And the pandemic didn't do my eating habits any favors. So with this news, I'm making small but impactful changes to my diet based on research I've done.
Keep reading to learn more about the small changes I'm making that I hope will impact my overall and reproductive health.
Golde
Inflammation in the body can cause all types of issues, and one thing that is clinically proven to help is the curcumin in turmeric. I used to try to whip up my own turmeric concoction until I found this superfood blend from the Black-owned wellness brand Golde that is made with organic turmeric and ginger. I've added this to my nightly routine, and I can report anecdotally that it's helped with my cramps and gives me a better night's rest.
Retrospec
You might be wondering why a bike is on this list, but let me explain. Because I work from home, movement is a much-needed part of my life, even on days when I don't want to move. Additionally, excess weight can increase the risk for fibroids because fat cells produce more estrogen. Research also links high blood pressure and the lack of vitamin D to fibroids. So biking helps me get some sun, fresh air, and exercise while keeping my blood pressure and weight in check.
Oster Versa
Getting enough veggies isn't always the easiest thing for me, but now I can dump all my spinach and fruit into one place and blend it into a smoothie. My recent test results show that I'm anemic again, so getting iron from spinach and leafy greens is important. And vitamins and minerals from fruits and veggies are impactful for hormone balancing.
BLK & Bold
Green tea is small but mighty, and studies prove it. A study done at Meharry Medical College found that the bioflavonoid in green tea called EGCG could help reduce the size and number of fibroids. Matcha and green tea bags are already in my cabinets, but I can't say I've done a great job drinking daily. Now, I am making it a point to have matcha each morning. For sweetness without refined sugar, I add Zoe and Zach's Wildflower Honey with Lavender.
Aroma
These days, I'm giving up take-out and leaning into cooking my meals at home. My cabinets are now full of organic oats, beans, and brown rice. Because I'm more of an "it needs to take less than 20 minutes" at-home chef, rice bowls are my go-to. And having a rice cooker on hand has made putting my rice bowls together a breeze. I load my brown rice up with organic sweet potatoes, black beans, corn, and any other veggie I'm craving for lunch and dinner. I know that may sound boring, but for now, that's what I'm committing to ensure I'm doing my part.
KIND
Sugar is my weakness. And refined sugar is not good for inflammation. Giving up sugar is a slow grind, but one thing I've found helps is granola. I love this one from KIND because it has protein that helps curb cravings and isn't loaded with sugar. I also realize that I love food with a crunch, so I run to this when I feel myself craving sugar, potato chips, or any sweet dessert I can order to my door.
Let's make things inbox official! Sign up for the xoNecole newsletter for daily love, wellness, career, and exclusive content delivered straight to your inbox.
Featured image by blackCAT/Getty Images